Open any glossy magazine and you will be met with one or two rave reviews of the Mason Pearson Brush from everyone from A-List hairstylists to your favorite beauty bloggers but are they actually as life-changing as some will have you believe? Or Are Mason Pearson Brushes a brainchild of consumerism mixed with hype?
We put the brush to the test and found out what it really has to offer and if the hefty price tag is worth it!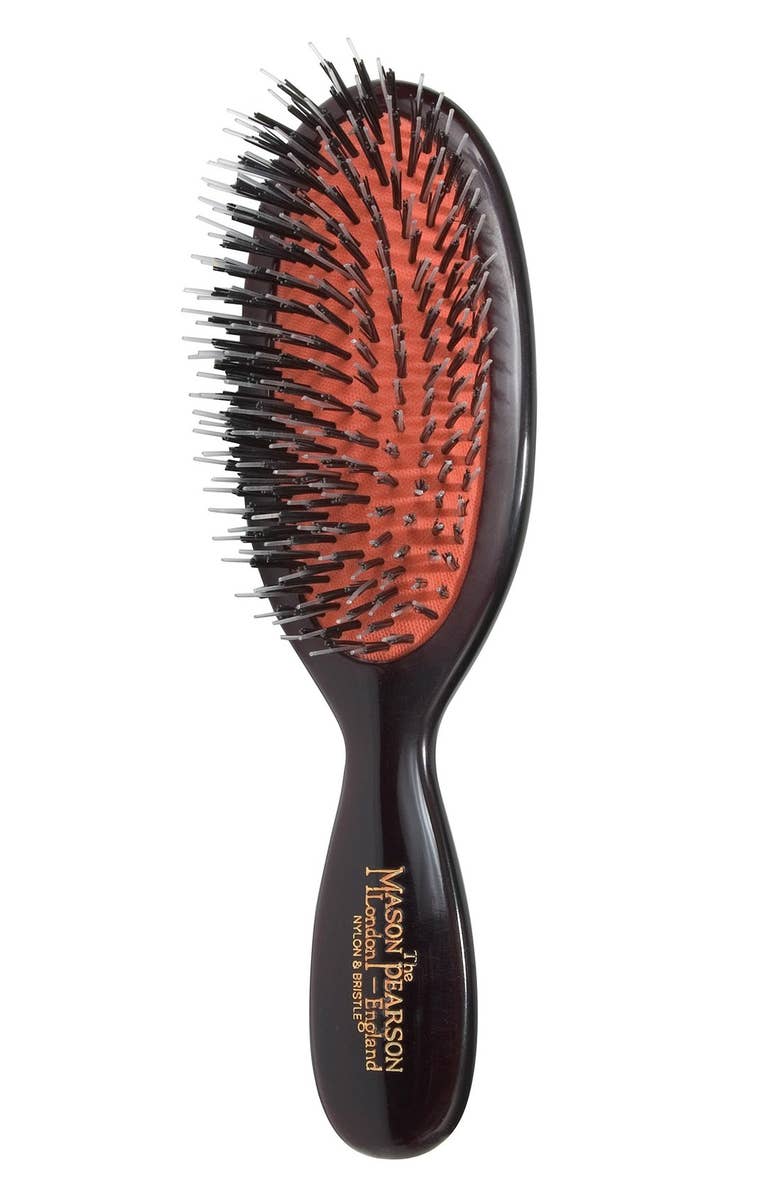 Design:
Mason Pearson hairbrushes date as far back as the industrial revolution, specifically 1885, and unlike their competition are largely handmade and feature boar bristles. We bet the company's motto is " If it ain't broke…" since the design hasn't been changed since the 1920s.
As expected the brush had no sharp angles and was a delight to hold. We tried the more modern version which featured a mix of nylon and boar bristles.
Extra: No actual Boars were harmed in the making of the brush, which we love.
Use:
The brush worked much like any other but left out the almost accepted common occurrence of tugging and pulling your locks.
At first, we were impressed but that soon turned into amazement and later pure joy when not only did it leave the hair with a soft shine but also eliminated unnecessary static while still maintaining volume.
At that point, our skeptical minds were being "brushed away", so to speak and with a single stroke, we had solved the three most major hair issues plaguing us before we could even say "how" and we were stunned.
Continued use of the hairbrush went a step further with its benefits and even worked to stimulate the scalp through its patented rubber-cushion pad and handmade bristles. This, in turn, activated blood circulation in the scalp, which promoted hair growth. i.e. Lush hair, all because of a brush!
Draw Backs:
To be honest, there really weren't any. Comparing the durability of the brush and many stories of people using theirs since the 1960s, the cost per use can be less than $0.00000000001 with the benefit of a honed design that is famous for a reason.
Some people have commented on the lack of luxe finishes of the brush, particularly the plastic handle. That might be true but we can overlook that since it is more of a cosmetic preference rather than an issue with use.
Conclusion:
We were skeptical about the almost mythical properties of the Mason Pearson Brush but the end results really spoke for themselves. Apart from building a small shrine to this brush, all we can do is it recommend it to anyone who has a follicle or two left on their scalp.
The best way we justify the price tag is that it is meant to be virtually indestructible and suits nearly all hair types, from baby fine locks to those wild curls.
The brush really did all that and more and while your $5 brush might untangle your knots, does it also actively work to circulate blood flow around your scalp while also promoting hair growth? We don't think so.
This product for us sits in a very rare category, one which lives up to its expectations and might even bring more to the table than any brush on the market, at any and all price points.